~ An introduction to horsemanship ~
Leadline Pony Lessons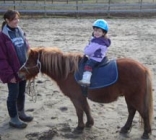 These lessons are our way of introducing young children into the world of horses without the stress of a formal lessons.  Our lessons are geared toward each individual child's abilities and interests, with an emphasis on safety.  We build confidence just by leading your child around in either our large indoor or outdoor arenas, in a round pen, wandering around the farm yard or we even may venture out of the arena for a trail lesson.
Leading a pony around our farm will allow your young rider to feel the sensations of ascending and descending small slopes while developing balance and a "feel" for riding. They will experience plenty of open space and many sights from birds, other horses, our barnyard animals to our friendly farm dogs. They may even get to see other riders and make new friends.  If  we decide to venture out for a trail lesson, your child will experience all different kinds of trees, flowers and plants as well as seeing a variety of wild birds, you may even see some or our wild farm residences like a rabbit, squirrel, chipmunk or if you are lucky you may even see a wild turkey or deer. It is really fun to experience nature at its best on the back of a pony.
Pee Wee Pony Lessons 
These lessons are the next step after leadline lessons, and the child has a better attention span. These lessons offer basic horsemanship to the beginner rider. The student will learn how to safely interact with horses. Learning how to catch and put a halter on and lead a pony, will learn grooming basics, how to tack a pony and eventually how to ride independently. This gives the child the basic skills needed to become a better equestrian before moving on to formal lessons.
Things you should know…
·  A helmet is required; you can bring your own riding helmet or bicycle helmet, or one will be provided for your child.
·  Riders are required to wear pants, No shorts.
·  Shoes are required. Your child will not be allowed to ride in sandals or in open toes shoes. A small healed shoe or a boot is preferred, but not necessary.
·  Riders should come prepared for the weather and to get a little dirty.       Parent or legal guardian must sign an Equine Release prior to a child riding.
· Lead-line Ponies will be led at all times by an instructor.  *We do require that children under the age of 5 also have an adult  participate in the lesson by walking along side the rider to help him/her stay secure and balanced in the saddle.
Lesson prices are based on a 1 hour of time. Students are expected to groom and tack their own horses (15min), and students that do not know how, are taught as part of their lessons. Riders too small will always be assisted. Riding under saddle is approximately 30 min and un-tack and groom (15min). All beginner lessons start with basic horse psychology, grooming and tacking before riders enter the riding ring. Beginner riders are required to take private lessons until they can safely be put into a group setting.
Lessons are by  Appointment Only