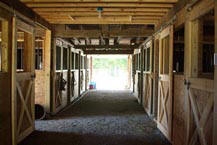 For the safety of our horses… Prior to your horse's arrival, we require a negative Coggins test result and/or a health certificate showing the horse to be healthy, current on shots, effectively de-wormed and free of all transmittable diseases. Horses and ponies boarded here range from pleasure, show and performance horses to simply being a spoiled family pet.
All boarders can enjoy the full use of County Line Stables facility. This includes, but not limited to, use of the  BEAUTIFUL INDOOR with amazing  footing consisting of dust free treated sand over a stone dust base, large sand outdoor arena, sand filled round training pens, our privately owned  groomed scenic trails, hacking fields, jumps and obstacles in both the arenas and on the trails. All boarders have full use of the barn for grooming, tacking and space is provided for storage of your personal tack.
Barn Features
Your horse will be content in a large box stall with therapeutic rubber-matte over a stone dust base.  Stalls sizes range from  10×10, 10×12 and 10×14 in both barns. The barns are fully insulated and well lit. Most stalls have a window helping to provide better ventilation and increasing daylight.  Horses love being able to see the view of the barnyard activities. 
*STALLIONS will be charged additional board and/or training fees.
Full Care Board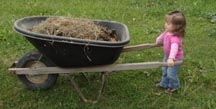 Requires a two month minimum
Stalls are cleaned/mucked Monday thru Saturday.  Fresh bedding/ shavings are added whenever necessary. Water buckets in stalls are emptied and fresh water supplied daily. Buckets are cleaned/sanitized when ever necessary.
 Ample supply of our own high quality homegrown hay is provided and quantities will vary to suit each horses needs.
Horses are grained 2x daily.  Speciality feed or supplements are the owners' responsibility to provide and we will gladly feed at no additional charge if they are pre-measured and labeled  for the horse.

 

Group turnout  – We like to turn out horses as much as possible unless the owner requests otherwise. Turnout is provided in groups of 3 or more and  may vary with the seasons and or by weather conditions… such as in the hot summer months horses may be turned out in the evening/night rather than during the day as we would normally do in the cooler  months. Turn out (weather permitting) is provided in safe electric and wood fenced, well tended pastures and paddocks. Constant fresh water provided in all turnouts in Rubbermaid poly stock water tanks (Heated water provided during winter turnout.).  Salt blocks are provided in pastures and paddocks at no additional charge.
Requests for individual turnout can be arranged for any horse at an additional fee. For the safety of the horses in turnout, horses shod all- around and stallions will be required to have individual turnout.
Training Board
Coppola's Horsemanship Training ~ The Natural Way
Please call for pricing, as it is based on each horse's individual training needs.
 

Requires a two month minimum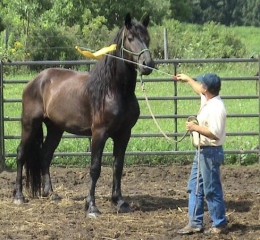 ground work is a foundation skill of this type of training. These training services are to teach the horse first…after the horse is taught properly; a separate training lesson is suggested for the owner. These lessons will help teach the owner of the horse how to continue with the training and techniques that were achieved at County Line Stables. This instruction allows the owner to be able to follow through with the horses' education at home. * It makes no sense to teach a horse how to do something if the owner doesn't understand how to ask properly for what the horse was taught. These techniques are a necessity for the young/green horse and can also be a benefit to the older horse that has never been taught to behave or respect the human handler on the ground or in the saddle.

We feel that it is extremely important to establish good ground working skills and gain respect from your horse before you attempt to ride.

Coppola's Horsemanship Training Services

· Halter Training: catching, haltering and leading with respect

· Trailer Loading: Sometimes the hardest part about owning a horse is getting it into a trailer, we can teach your horse to load safely, consistently and be comfortable in the trailer.  This is taught through respect without treats, being coerced or forced into loading.

· Tying to trailer or cross ties  · Application of fly sprays, masks etc..

· Round Pen Work: communication, basic skills and learning cues from  body language

· Colt Starting ~  Gentle breaking to saddle: bending, flexing, one rein stops, hindquarter, front quarter engagement and disengagement.

· Desensitizing:  flags, tarps, load noises, farm machinery, various  farm animals such as dogs, ponies, cows, goats etc…

· Patience Training:  hobble training, learning to straight tie or stand in cross-ties patiently and for an extended length of time. Standing for mounting/ dismounting; tacking/un-tacking.  Learning to stand still while being hand held or under saddle when asked….this is a must to anyone who shows

· Grooming/ Clipper training: teaching young horse to accept being handled safely and groomed using various types of grooming equipment, including being washed and clipped.

· Blanket/Boot Training: teaching the horse to have a blanket put on and off and to deal with something being tied under the legs and belly, applying  polo wraps, shipping boots, bandages, bell boots, splint/galloping  boots, or sport boots

· Farrier/Vet training: teaching how to pick up feet without kicking or resistancee to make picking the feet and farrier work easier, learning to standing still and well behaved for farrier or vet.

· Crossing water      · Free Jumping  · Trail riding                                      ·  Backing, Lateral work           · Spook control

· Obstacle Training ~ trail class: teaching the horse to perform many different techniques as required in competitive trail classes and extreme cowboy challenges.

Pasture Board
Requires a two month minimum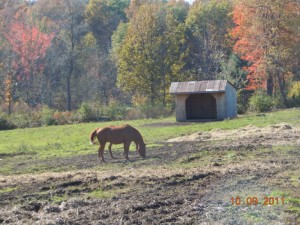 Pasture board is available to a very limited number of horses with the right personality and have full use of facility as stated above but do not have an individual stall, a run in shed is provided in the pasture for shelter. Pasture horses are provided with an ample supply of locally grown hay and/or a pasture diet only. They are provided with a constant supply of fresh water in Rubbermaid poly stock water tanks (Heated water provided during winter turnout). *We provide a salt block  for our pasture boarders at no additional charge.
Retirement / In Active Owner Board
Full Care Board
Weekly grooming
Owner supplied fly Spray applied as necessary
Exercise session-1 day per week
 Blanketing, booting, vet or farrier holding
 Truck-in's Welcome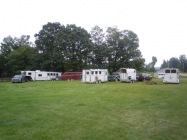 Help keep your horse fit for that next show or to keep in work during the cold winter months. Use our facility to work on discipline specifics such as your jumping, dressage, trail class obstacle training or barrels/gaming events  in either one of our large INDOOR OR OUTDOOR arenas. Board is available by the day or by the week with full use of the arenas, round pens, fields and scenic trails, jumps and obstacles. There is plenty of easy parking available.
Full Arena Rental  is available for private shows, clinics and/or day use for groups events.